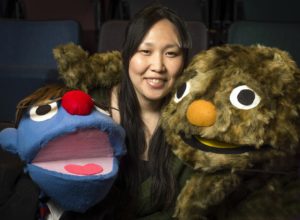 Naoko's CV           Email: naokoskala@gmail.com
Naoko Skala is a scenic designer, scenic artist and props artisan, who was raised in Japan.
Currently Naoko is working as an assistant professor of practice in scenic and properties design and technology at Northern Arizona University, Flagstaff, AZ.
Previously Naoko was working as a properties coordinator at Arizona Opera. She was also teaching a scene painting class at Arizona State University as a faculty associate and working as a freelance scene designer/ scenic artist/ props artisan in Phoenix, AZ area. Formerly she was a properties supervisor at Arts Center of Coastal Carolina.
Naoko received her Master of Fine Arts degree in Scene Design from Minnesota State University, Mankato. She also received her Bachelor of Fine Arts degree in Theatre from Emporia State University, KS, and her Bachelor of Arts degree in Japanese Literature from Sagami Women's University, Japan.
Her creative interests are scenic design, scene painting, props, computer-aided drafting (CAD), graphic design, motion graphics, 3D printing, painting, sculpture, English and Japanese literature.